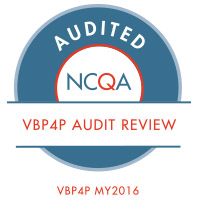 Arch Health Medical Group is audited by the National Committee for Quality Assurance (NCQA) Value-Based Pay for Performance, or VBP4P, audit review.
The VBP4P audit review is a statewide initiative that is carried out to ensure high value in healthcare in over 200 physician groups in California. The NCQA develops and maintains the clinical measures and audit methodologies used in the audit process and, subsequently, awards the audit seal to qualifying physician organizations that meet the NCQA standards.
Through this program, California consumers benefit from the availability of standardized performance results from a common measure set, available to the public through the State of California, Office of the Patient Advocate (OPA) Health Care Quality Report Card.
Specifically, the VBP4P audit aims to assess aspects of care that are most relevant to patients and those involved in healthcare that reflect a move toward more coordinated, integrated team care. Measures also focus on cost and resource management as well as quality of care.